On April 27th, 2022, The Asian Water Research Center (CARE - RESCIF) was pleased to welcome the delegation of IRD representatives in Vietnam.
The delegation included Dr. Edmond Dounias - Representative of the French Institute for Research and Development (IRD), Dr. Xavier Mari and Dr. Gaelle Uzu - Senior Researcher on Black Carbon, IRD Hanoi Institute, Mr. Nguyen Cong Thanh - IRD Scientific Cooperation Officer.
Dr. Ho Tuan Duc - Director of CARE Laboratory, Dr. Marc Descloitres - Scientific Director of CARE Center and co-director of Laboratoire Mixte International (LMI) LECZ-CARE with teachers and staff of the center sent a warm welcome to the IRD delegation.
At the beginning of the meeting, Mr. Ho Tuan Duc shared general information on the center: history of establishment, role and contributions of CARE in the field of environmental science, research activities and several events over the past few months; especially the visit of the French Consulate on April 25th.
Afterwards, Mr. Marc Descloitres introduced IJL - International Cooperation Laboratory to play the role in organizing and supporting research on water issues and financial support plans for research projects at partners of the IRD.
On this occasion, CARE researchers started to present several scientific research papers.
First of all, Dr. Kieu Le Thuy Chung introduced the "Plastic in the Aquatic environment: Sources, Transport, Ingestion and Contamination" project (2017) in collaboration with Dr. Emily Strady with seven other members. They did research on samples collected from industrial and domestic wastewater sources in the Saigon River, Vietnam. The IRD representative group also expressed deep concern by posing questions about plastic waste in the aquatic environment.
Dr. Dao Thanh Son from the research group of the Faculty of Environment and Natural Resources continued to present on the "Surface fluxes from land to the ocean" project, conducted with Dr. Julien Némery.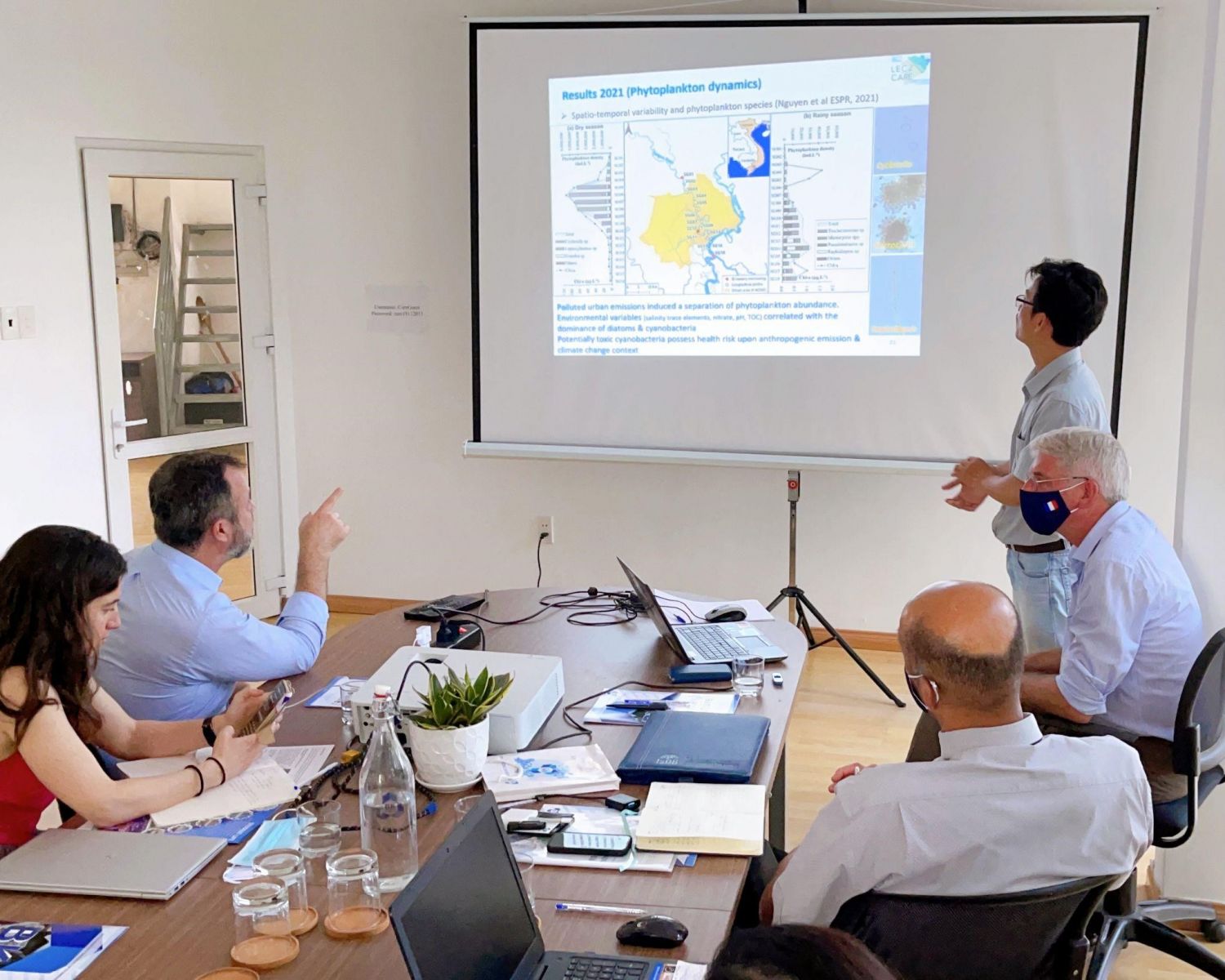 On behalf of IRD, Ms. Gaelle Uzu discussed issues related to air quality, emissions and their negative impacts on human health. According to Gaelle, it is urgent to implement the maintenance of clean air on our planet in adaptation to climate changes.
Speaking at the meeting, Mr. Edmond Dounias focused on the IRD unit in Vietnam as well as promoted science for a sustainable future. Accordingly, IRD is considered an equal scientific partner with tropical countries, acting as a center for mobilizing human resources, finance and technology. However, IRD's representative units in other areas were not yet expanded, only a few in some Southeast Asian countries such as Vietnam, Philippines, Indonesia, Cambodia, Laos, etc.
Before entering the next area, Mr. Ho Tuan Duc presented CARE's souvenirs to the IRD Hanoi delegation as a thank you for their precious time. Afterwards, representatives of IRD and CARE Center staff members joined a tea-break with cakes, fresh fruits and coffee.
The delegation continued their visit to laboratories for water analysis, waste treatment and ecological toxicity. Dr. Le Thi Minh Tam - Researcher in charge of the CARE Analytical Laboratory presented various types of machines used in the research practice.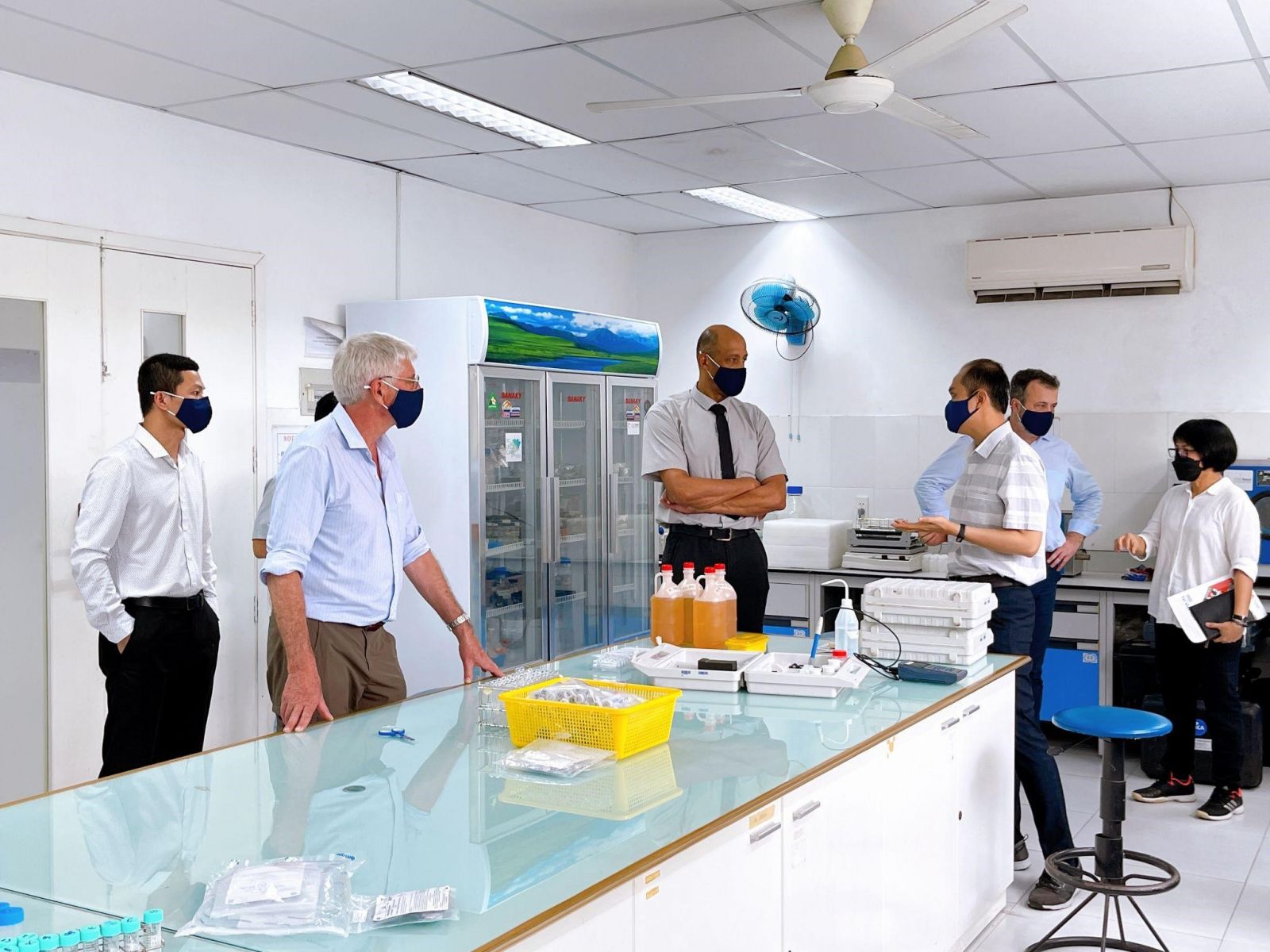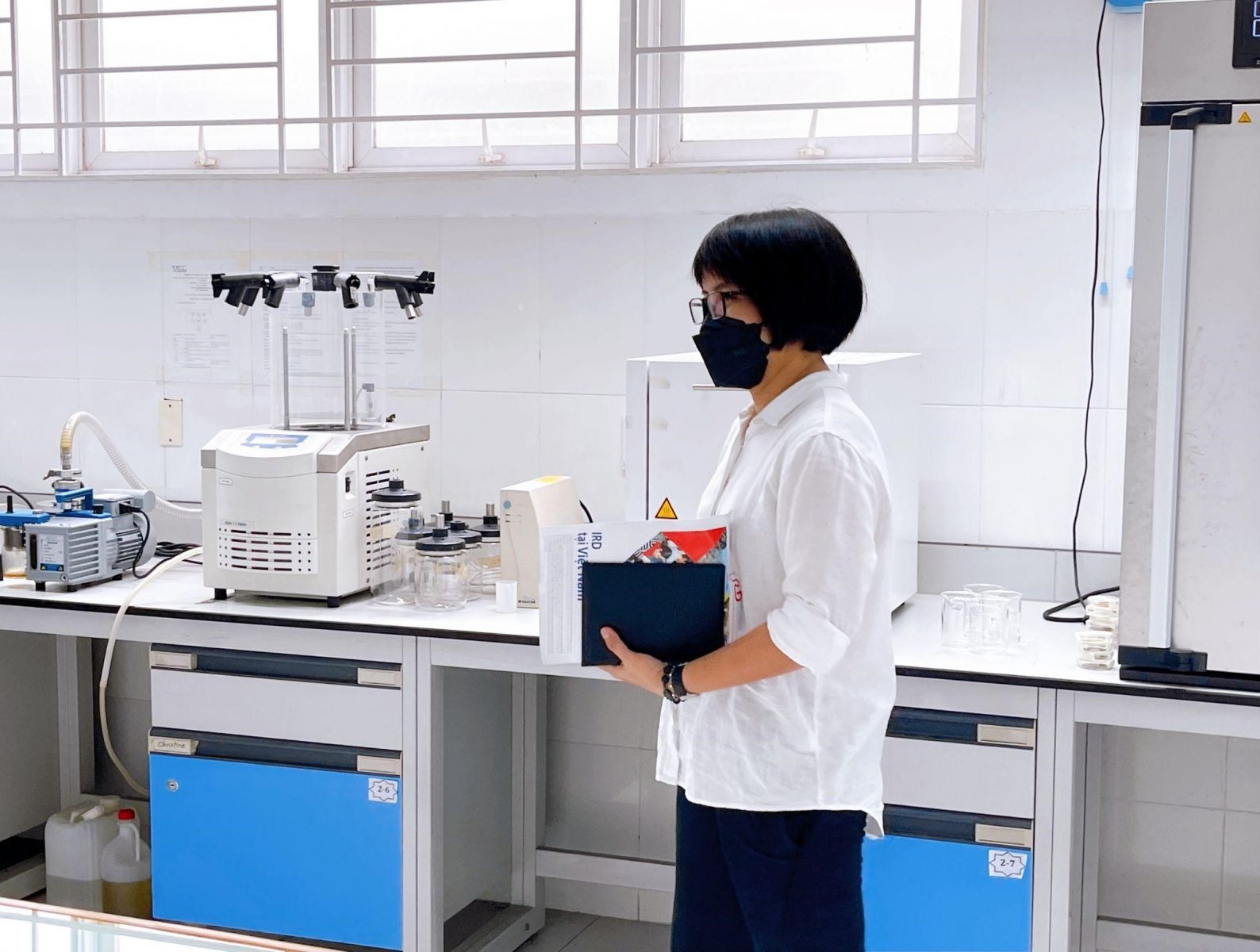 At the end of the meeting, the IRD and CARE members enjoyed a cozy lunch with Vietnamese specialties at the Royal House restaurant.